Zephyr Photos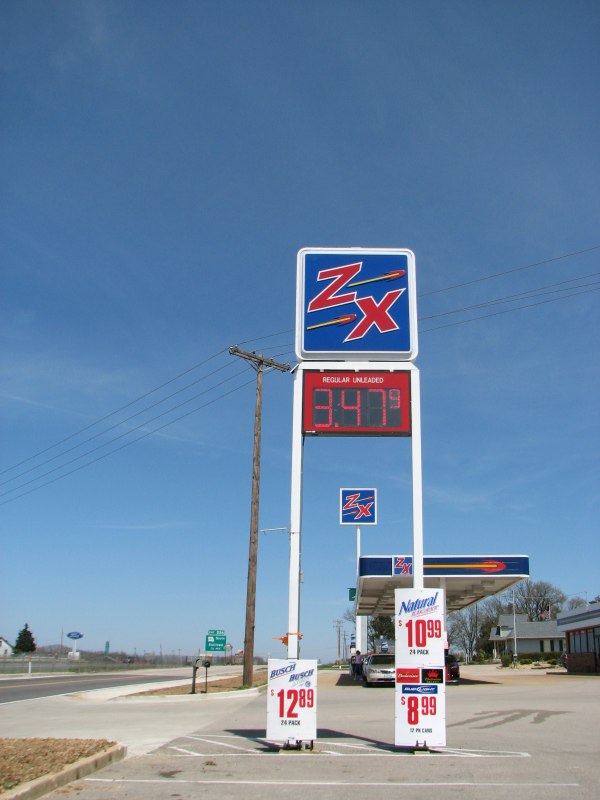 A Zephyr Express in Sullivan, Missouri. Photo taken April 20, 2008 by David Backlin.





A second view of the Zephyr Express in Sullivan, MO. Taken April 20, 2008 by David Backlin.





The ZEPHYR brand is one of the oldest independent brands in the country,
dating back to 1939 when the J. D. Streett Co. in Maryland Heights, Mo.
(St. Louis) branched out into gasoline marketing. The company began
way back in 1884 as a grease distributor. Founded by its namesake,
Street got into lubricants wholesaling around 1926 and then into gasoline
with the ZEPHYR brand in 1939. At its height, the company was up to around
500 stations, including some unlikely areas such as Cincinnati and north Florida
(mostly Jacksonville). However, the gas crunch of the mid-70s took care of
those far flung operations and the company retreated to their traditional
market area including much of Illinois and parts of Indiana, Missouri, Iowa
and Kentucky. After the C-store era came in they were mostly into major brand
C-stores, but the ZEPHYR brand continued at a limited number of sites.
One of those areas the brand is still going strong is Terre Haute, Indiana,
with no less that five sites, all with EXPRESS MART C-stores. The clerk at
one of them said the company was "Midwest Oil" with about 10 stations,
but I think that is a jobber operation of some kind through Street.
Note: The early dates for this history come from the 75th anniversary issue
of the NATIONAL PETROLEUM NEWS in February 1984.

TOP.........U. S. 41 north, with a old "stand alone" sign mounted on the canopy.

BOTTOM.......Close up of the store & pumps at the N. Lafayette Ave. location.
Photos taken Sept. 17, 2003 by Walt Wimer. Above information contributed by Walt Wimer.


---

Here are some close-ups of the signs at the above Terre Haute ZEPHYR stations.
The familiar ZEPHYR blue and white oval dates back to at least to 1950 and maybe
into the late 40s. Over the years there have been three variations. The original
logo of the early 50s had speed lines and shading on the right hand side.
Sometime between 1963 and 1966 the shading and speed lines were dropped.
I feel quite sure that this was to make the sign easier to read and also to
better produce in plastic for the interior lit signage. Then about 1971-72 they
dropped the "motor oil" and "gasoline" wording from the logo.
(These dates based on my road map collection)

LEFT.......This sign is at the Lafayette Ave. site and is the oldest one of
all five stations although the station may be about the newest building-wise.
This sign would have dated somewhere between 1966 and 1970.
Pretty long ago to still be in use in 2003!!

RIGHT......This is the newest version of the oval logo without either the
speedlines or the wording in the blue areas. Still it probably dates back to the 70s.
This shot is at one of the West Terre Haute sites, but the same logo/sign was in use
at both of the sites with the sign mounted on the canopy.

BOTTOM......This is the odd ball of the bunch and probably much newer.
This C-store site is at Margaret Ave. & 25th St. Pretty much a run of the mill
looking C-store that didn't really rate a photo and is probably the lesser site
of the five in the Terre Haute area. They had two of these signs, one for each street.
This one, more or less a ground mount, faced 25th St. and the other on a double pole
faces Margaret St. Could be that with the Terre Haute sites being all part of one
jobber operation, the jobber had this sign locally made with his EXPRESS MART name
and a small ZEPHYR logo.
Photos taken Sept. 17, 2003 by Walt Wimer. Above information contributed by Walt Wimer.


---

Here are two ZEPHYR stations located on US 40 going through West Terre Haute, Indiana.
The pair are almost within sight of each other, which leads me to believe one of them
was once some other brand. They are both on the right hand side going west through town.
TOP.......This one has the same canopy and sign mounted on top of it as the one on US 41
north in Terre Haute, and I believe is the older of the two sites.

BOTTOM........The store building and canopy here is just like the one on Lafayette Street,
so maybe both were another brand at one time. The all red pumps with a number in a shield
leads me to think they could have been PHILLIPS 66.
Photos taken Sept. 17, 2003 by Walt Wimer. Above information contributed by Walt Wimer.




---

All above photos Copyright © 1999 by Brad E Harms. Used by permission.
Photos taken in Galesburg, Illinois shortly before station was dismantled.
---

Three photos of a Zephyr station on Broadway in Alton, Illinois.
Photos taken on Feb. 23, 2002 by Rich Piehl.
Note: The above blue oval Zephyr signs are a brand marketed by J. D. Streett and Co. of Maryland Heights Missouri.





Two shots of a Zephyr station on Indiana 39 just west of Martinsville, Indiana.
Taken on June 1, 2003 by John Cirillo.





Zephyr in northern Illinois, possibly near Joliet.
1959 photo by Walt Wimer.
Walt writes: Note the porcelain sign, globes and candy stripe pumps.
The billboard at the right reads J & L Petroleum Corp., so wonder
if this was in the beginning for that company/brand and they later
went to their own brand??
Also note the high bays...they must have catered to trucks.





Zephyr in Vincennes, Indiana. Taken July 9, 1967 by Walt Wimer.
Walt's comments: More candy stripe pumps and oval globes, but now
a plastic sign without the speed lines, but still with
"motor oil" & "gasoline".





Zephyr in Davenport, Iowa, on Rockingham Road.
Taken Sept. 16, 1984 by Walt Wimer.
Note the Tastee Freeze restaurant in the background!
Walt's comments: This is an old 30s cottage station that was
probably originally a Pure station. Davenport was on the western edge of
Pure's territory so this is likely. (Thanks to David Serra for Pure info).
Photo was taken around dusk and the sign (without wording) is already lit.
Rockingham Road was not a numbered highway, but probably was at one time.

Note from Phil Case: Rockingham Road was US 61 prior to 1958.
Per information at Iowa Highways,
"In 1958 West River Drive in Davenport opened to take US 61 off
its old Rockingham Road alignment."


---

A 1950's Zephyr logo from David Backlin.
This red triangular Zephyr is from Naph-Sol Refining Company of Muskeon, Michigan.
Naph-Sol is now part of Marathon Oil. See pages 74 and 75 of the book Guide to Gasoline Logos
by Wayne Henderson and Scott Benjamin.

Thanks to Bill Heger for explaining the differences in the two Zephyr brands.





A Zephyr located on Michigan State Highway 28 in the Michigan Upper Peninsula.
Taken Sept. 1997 by Noel Levy.





A Zephyr station in Eaton Rapids, Michigan (Harris Oil Company)
Taken Dec. 1999 by David Rowlison.