Signal Photos

A Signal station at night, from the June, 1961 Signal dealer magazine.
The station was located in Compton, Calif. and was running 24 hours a day at the time.
The station was almost brand new at the time as well.
Scanned and submitted by Walt Wimer.





This Signal station represents the appearance of their stations
just prior to the Humble buy-out of 1967.
Picture was scanned directly from a promotional booklet given away
by Signal to potential franchisees. The booklet did not include
a publication date, but there were enough clues to say it was
issued circa 1966. No location or photographer credits for this picture.
From David Aldred, Oct. 2003.





The sign says Signal. The emblem is reminiscent of the old Signal brand.
Could it be???
Taken June 26, 2004 by David Backlin at Springfield, MO..
2008 Update: This station was part of a local chain in Southern Missouri.
The chain was purchased by Git n Go, which itself was then bought by Kum n Go.
Thanks to David Aldred for this information.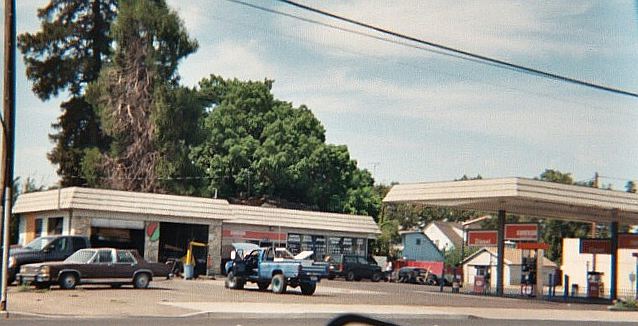 This is the CURTESY OIL CO. station on Lander Street in Turlock CA.
In this photo can be seen the red and green S shape on the garage
between the two bays, showing that at one time this was a Signal station.
Photo taken Sept. 2003 by J. Eric Freedner.
The origin of this particular signage is kind of complicated, but David Aldred has
put together a little capsule history that explains it best:


The red and green 'S' was used at the stations selling Signal Oil and Gas products under the 'Hancock',
 'Norwalk', etc. names during the last couple of years of the company's marketing program from about 
1968 on.  This symbol was used to tie the brands together in much the same way Jersey Standard used
 'Humble' until 1972 to tie its Esso, Enco and Humble brands together before converting them all to the
 Exxon brand.  It could not use anything associated with the 'Signal'  name for marketing until 1967, due
 to Standard of California having rights to the trademark in association with its ownership of the Signal
 Oil Company stations.  When Jersey Standard purchased the Signal stations and converted them to Enco, the
 Signal name reverted to Signal Oil and Gas Company to be used in any way they saw fit.  Thus this 'S' is
 evidence that the station marketed under the Hancock brand at that time. Growing up in Northern California
 during the 70's, I saw several of these 'S' logos at former Hancock stations...At least some of which
 would have been company owned, while not at former Norwalk stations (these I believe were all dealer or
 jobber operated, and perhaps slower in paying for and installing the additional signage). 
-David Aldred


Note: Also per David Aldred, this station was later an Exxon
for a period of time, and also possibly a Gulf before or after that.





A giant map scan from a 1948 Signal map, provided by David Aldred.





These photos were previously listed under Rocket, however based on David Aldred's
map scan above and another viewer who states this was a Signal station, I've moved the
photos here to the Signal page.
Building is located at the triangle intersection of San Bernardino Road
and Foothill Boulevard (Old Route 66) in Rancho Cucamonga, CA. Currently vacant, it was
most recently a coffee shop.
Photos taken 9-14-2004 by J. Eric Freedner.





1966 map scan from David Aldred.